About
Our objective is to provide counseling that focuses on anger management tailored specifically for women and couples
Healing Anger was established by Alistair Moes, working with women counsellors. The objective was to provide counseling on anger management tailored to women and couples.
During the last 10 years of leading the Healing Anger women's groups, Alejandra Proaño, MSc, MA (Psy), MA (Lit), RCC, registered and compiled the words and experiences of the hundreds of women that joined the groups and incorporated research especially relevant to women's anger.
Alejandra and Alistair now own and run the company based on their shared values of creating a world with more gender equality, compassion, justice, passionate work and easy play.
Alejandra Proaño has worked on issues around anger and violence with women, men, families, and organizations in Canada, Mexico, Colombia, and her home country of Ecuador. She facilitates groups and sees individuals, couples and families. With more than 20 years of experience in the field, she is also a published author, international consultant, speaker, and professional coach. She facilitates the women's groups, which start approximately every 7 weeks, and co-facilitates some men's groups with Moose Anger Management. Alejandra has a BA in psychology, a Specialization in Systemic Therapies, and a Master of Psychology degree. She also has a Master of Science degree (Technology Management) and a Master of Arts (Literature). Read more »
Alistair has been working professionally as a counsellor/educator since 1989 and in private practice since 1994. During this time Alistair has developed a manner of working with men and women which is respectful, solution-focussed and based on both academic theory and extensive experience. This experience includes working with trauma, and historic abuse in a manner that honours each person and allows for deep healing, and looking at the practical "anger management" work that some prefer. It completely depends on what each person is looking for. During the last twenty-two years he has worked with thousands of people who have made the phone call out of a desire to create change. Although he has facilitated court-ordered men, he now works exclusively with self-referred clients.  Read more »
Steve Henne, MA, PhD (Cand.), RCC, CGP is a clinical leader with a strong focus on matching his actions to his values and beliefs. With over 27 years clinical experience, Steve has worked successfully with individuals, couples, families, groups and organizations. He uses a constructive and collaborative approach in his work with people tinged by humour and thoughtfulness. Steve believes that life is always presenting problems and challenges and works with you to find meaningful and realistic solutions. An international expert in counselling and psychotherapy, he has presented on topics related to anger management, addictions & substance use issues, mental health, groups and family dynamics. Read more »
As a certified counselor, Durwin has learned the science of effective therapy through rigorous academic training. He completed a Master of Arts in Counselling Psychology at the University of British Columbia and is certified at the national level through the Canadian Counselling and Psychotherapy Association (CCPA) and at the provincial level through the BC Association of Clinical Counsellors (BCACC). Durwin also completed all required doctoral-level coursework and training in supervision, while performing research on the benefits of mindfulness training. He is a recipient of the Mind and Life Institute's Varela Memorial Award. He has been in private practice for 9 years.
We are really grateful for Durwin's expertise around depression, which often is part of the picture for those who have struggled with anger. Read more »
Brinita runs the Healing Anger groups with Alejandra. She is only seeing individual clients who come through our groups. Brinita works from a trauma-informed counselling approach around collaborative learning, meaning-making, connection, and discovery. Her strength-based and client-centred approach results from 13 years of experience in the social services field. She has years of experience connecting with clients from various demographic, gender, cultural, and socio-economic backgrounds. Read more »
Trevor Bird, MTC, IFSC. Trevor actively uses a parts-based therapeutic modality called Internal Family Systems or IFS, which is an evidence-based therapy that has efficacy in addressing and treating issues such as depression, anxiety and PTSD. Read more »
Tara is a Registered Clinical Counsellor and Registered Social Worker since 2005. She holds a Bachelor of Arts degree in Psychology, a Bachelor of Social Work and a Masters of Arts in Counselling Psychology. She has additional training in Anger Management, Motivational Interviewing and Couples Counselling. Her post graduate training has been completed through the Gottman Institute and includes Clinical Foundations Levels 1 and 2 in Gottman Method Couples Therapy, Couples and Addiction Recovery along with the Gottman's Trauma and Affair Recovery program. Tara has been working with seniors in care since 1989 and has extensive experience helping families navigate BC's complex long term care system. Read more »
Wade is a certified focusing-oriented therapist, a member of the Focusing Institute in New York, NY, and a certified eye movement desensitization and reprocessing (EMDR) therapist through the EMDR International Association. He was trained at the Justice Institute of British Columbia in the practice of Indigenous/Aboriginal focusing-oriented therapy and trauma-informed practice, and he holds certification along with advanced practice skills and competence in substance-use treatment. Wade is also trained in Levels 1 and 2 of the Gottman couple method, Level 1 and Level 2 of motivational interviewing, Single-Session and One-At-A-Time approaches, and cognitive behavioural and dialectical behavioural therapies. Wade receives ongoing clinical supervision, which is a best practice in the counselling professions. Read more »
Jeff Markusoff, M.Ed, RCC. Jeff is an experienced clinical counsellor who holds a Master's (M.Ed.) degree in Counselling Psychology from the University of British Columbia (UBC) and is a Registered Clinical Counsellor (#13297) with the British Columbia Association of Clinical Counsellors (BCACC). Throughout his career, he has worked with a broad client base, consisting of adults, couples, and adolescents, both individually and as a family. He utilizes evidence-based practices to help…Read more »
Furkhan Dandia, MACP, P.ENG, PMP, MBA has a background in engineering and business. After life-changing situations, such as becoming a father and going through a divorce, Furkhan started to dive deep into his purpose in life and make a difference in people's lives. Going through a divorce made Furkhan realize how much shame there is for men around failure. That further motivated Furkhan to… Read more »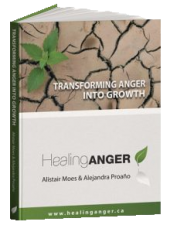 Healing Anger: Transforming Anger Into Growth
This book has helped thousands of people become more in charge of their response to anger, to others acting poorly, and to the things that trigger them. After reading the book people experience a deeper understanding of their own anger and gain insight into what is behind this powerful emotion.